Magnetic Moments
Magnetic Moments
Briefly. A blink. You take a look. Come closer. Entering the field of attraction. Wonder. Joy. Hypnotised, your thoughts wander. 
At the same time. Looking inwards. An uncomfortable feeling. War. Energy. Climate. Microplastics in our food chain. Is it too late? Do we have any influence at all? Dissonant circles. 
In this current moment, Kazerne deploys this force to briefly step aside from the dystopian daily reality. The emotions of wonder, located in the moment between no-longer and not-yet, can lead to insight into what has eluded us until now. Philosopher Genevieve Lloyd: 'Wonder, in its many forms, has provided an intellectual space – a temporary pause – which fosters the renewal of active, imaginative, emotionally engaged thinking. It depends but also thrives on the absence of certainty.'1 She sees wonder as particularly helpful for coming to grips with the greatest uncertainties of our time, such as anthropogenic climate change, and for developing political positions on these matters. 
Get swept away by the contemplative (light)artworks, soundscapes and scenography. Immerse yourself into the magnetic moment and get temped to freely associate and energetically face the challenges of this era.
Attraction, rejection. Tension and relief. An inseparable forcefield, just like the beating heart that feeds the head.
Entrance free of charge. To enjoy coffee, lunch, drinks, dinner, the Glow special or a hotel room, early bookings are recommended via www.kazerne.com.
Curator
Annemoon Geurts
Scenography
Rive Roshan
Soundscape
Lumus Instruments
Featuring
Juul Hagemeier, Niels Hoebers, Lumus Instruments, Rive Roshan, Studio Toer, Lucas Zito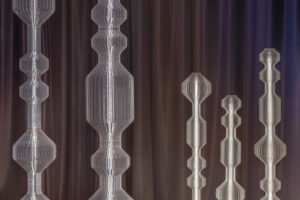 About the Artists
Designer Juul Hagemeier creates objects that stimulate the senses and encourage a mindful living. With her designs, she aims to inspire and nurture others with new ideas related to personal well-being. With an emphasis on simple geometry and simplicity, her work connects
the imaginative with the practical, resulting in a unique aesthetic. Hagemeier graduated from the Maastricht Institute of Arts in 2022. She currently runs her own design studio in Eindhoven.
Niels Hoebers is a video artist specialized in Stop motion animation. With his new project called Slow Stories – video's without a beginning or an end, edited in an infinite loop – he explores the boundaries within Film, Art & Time. These animations are specially made to be played off grid, to contrast our daily online video consumption full of hyperactive eyecandy.
Slowstory aims to create an intimate relation with its observer, letting them drift and wonder into the imagination.
Lumus Instruments creates structural and interactive lighting installations. Architect Julius Oosting and designers Timo Lejeune and Timothy Hendriks develop, design and engineer modular lighting installations and controlling systems, which can be used for artistic lighting experiences. Previous projects range from art installations designed for light festivals to scenography for music festivals and concerts as well as immersive audiovisual live performances.
Rive Roshan is a collaboration between Ruben de la Rive Box and Golnar Roshan. The studio creates objects and installations that play with perspective, space and temporality. Inspired by architecture and the potential of materials, Rive Roshan searches for a visually sublime experience, with light and colour in a leading role. "Our role as artists and designers is to offer people a new and inspiring perspective towards a progressive future."
Studio Toer is a multidisciplinary studio with a focus on kinetic and lighting art. The studio was founded in 2011 by Castor Bours and Wouter Widdershoven. Their work is defined by an inquisitive and experimental attitude that allows them to push boundaries within the broad range of design in both technical and aesthetic terms. Studio Toer's interactive experiences and light artworks receive worldwide attention and are widely acclaimed.
Since studying at Design Academy in Eindhoven, Lucas Zito has focused on new applications of ecological and recycled materials. He has specialized in 3D printing bioplastics, a material that adapts well to making unique products. Zito's designs are notable for their timeless beauty, and attention to functionality and sustainability.
Agenda