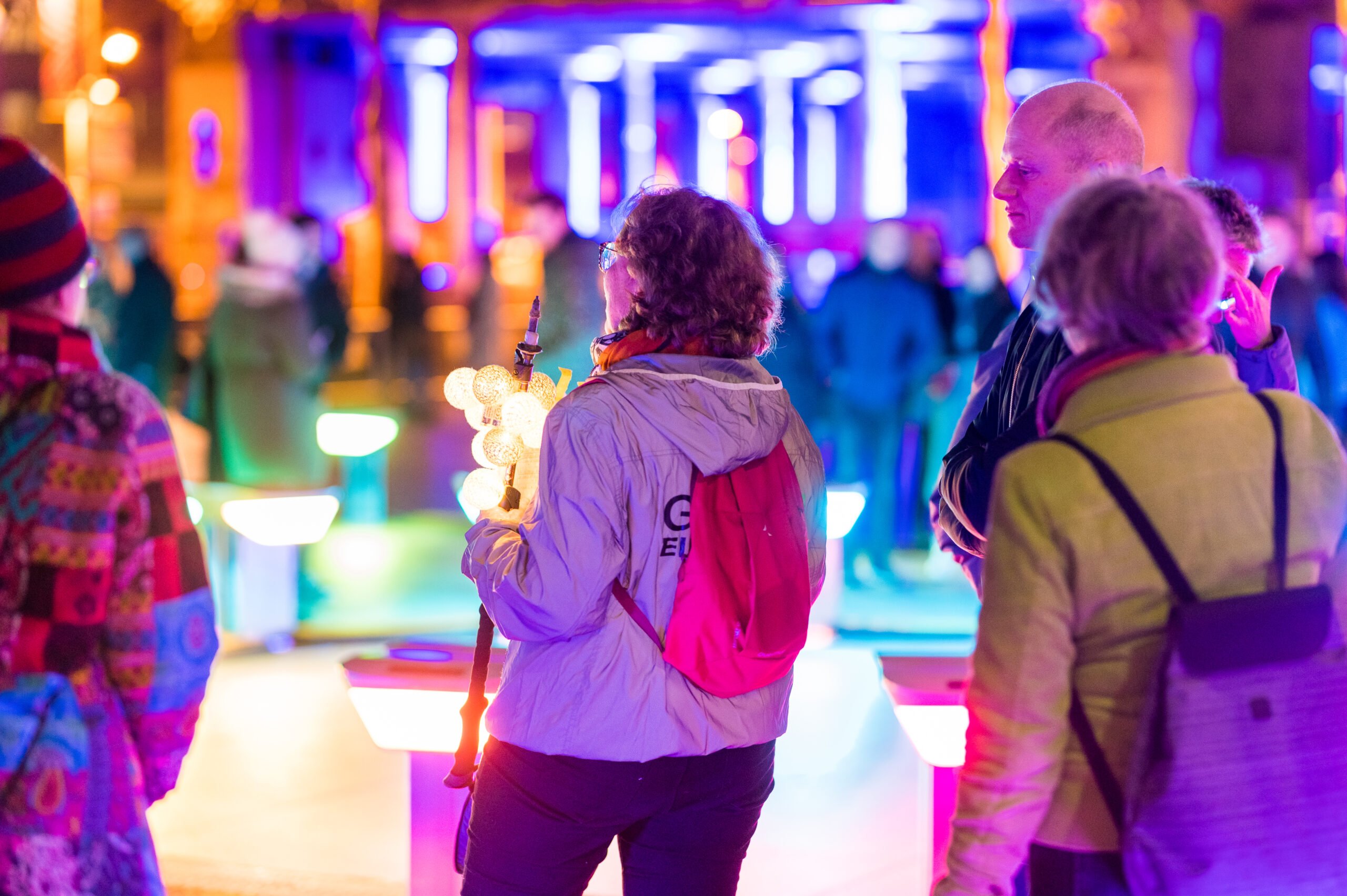 Explore more light art
Experience GLOW in all its splendor with Eindhoven 247 captivating guided tours! Every year, we take you on an extraordinary journey through the mesmerizing GLOW highlights. This time around, you don't want to miss out on this enchanting adventure. Picture yourself strolling alongside our expert guides, who will reveal the most fascinating insights about the art of illumination, the ingenious artists behind it all, and the vibrant city of Eindhoven. It's the perfect evening escapade with your colleagues, friends, or family. Tailor your own night or secure a spot on one of our four captivating GLOW tours available for registration.
GLOW tours
Mark your calendars for November 11th, 12th, 17th, and 18th. Secure your spot by registering for only €15.00 per person.
The tours kick off at 7:00 PM in the station hall, right in front of Tourist Information Eindhoven/VVV, at Stationsplein 23-02.
These tours are Dutch spoken.
Private tours
For a more exclusive experience, why not indulge in a private tour with your very own guide? Available between November 11th and 18th (excluding Monday, November 13th), this exclusive option allows a maximum of 15 participants per group, and the cost is € 275.00 per guide, excluding VAT. We also offer English-language tours to cater to our international visitors. Secure your private tour through our convenient online ticket shop provided by Eindhoven247.
WALKING DINNER.
Savor the delectable delights of GLOW through our culinary tours, presented by WALKING DINNER. Treat yourself to a sumptuous 4-course meal (including beverages) at four distinct restaurants, all while immersing yourself in the enchanting ambiance and breathtaking artistry of GLOW.
Don't miss this extraordinary opportunity to embrace the radiant wonders of GLOW and Eindhoven. Reserve your spot now and let the magic unfold before your eyes.
Become a partner
GLOW Eindhoven exists thanks to special collaborations and tailor-made partnerships
One-time donation
Donate a voluntary amount easily and safely. The GLOW Foundation is happy with every donation!