GLOW signs for sustainability in Green Deal agreement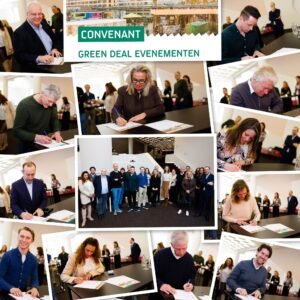 On Thursday 9 March, 11 Eindhoven-based event organisers and the Eindhoven municipality will sign the 'Green Deal Events'. In this agreement, they acknowledge that each party will take responsibility for reducing the environmental impact of their event. They will also ensure that events are more inclusive, so that everyone feels welcome.
"Events are important for a city. They create a vibe and bring residents and visitors together. We would like to organise sustainable events in Eindhoven, events that everyone wants to attend", says alderman Monique Esselbrugge (events). "So we are really pleased that these 11 event organisers feel the same and are taking responsibility. There are lots of ways the events sector can reduce its own impact on the environment. And an event is the perfect place to introduce visitors, crew and artists to this topic in a positive way."
Themes
The Green Deal Events focuses on the themes energy, material and plastic, food and drink, mobility, and diversity and inclusion. Possible applications are the use of sustainable energy sources, reducing the amount of (plastic) waste and more vegetarian, organic and local food and drink on the menu. Climate-neutral travel options are also important, as is reflecting the wealth of the different people in our region, both in terms of organisation, artists and audience.
11 frontrunners
Signing the agreement are 11 frontrunners from the events sector, both large and smaller parties. They must draw up an action plan within six months of signing and the objectives listed in the agreement must be achieved within two years. They will also share their knowledge with other event organisers. Martijn Paulen from Dutch Design Foundation / Dutch Design Week: "DDW has had sustainability high on its agenda for years already, but there's still plenty of room for improvement and learning. Working together means we are sharing an enormous amount of knowledge and experience on many different themes. It is paramount that we set objectives with the municipality of Eindhoven and the organisers and work towards them. We will achieve much more together!"
The Green Deal stems from the Event Vision drawn up by the city of Eindhoven in October 2021. The municipality has a facilitating role in the implementation of the deal. It will also adjust its licencing policies for events where needed. This means that all organisers wanting to hold an event in the city must meet the same requirements.
Participating event organisers
Dutch Design Week, GLOW Eindhoven, Klokgebouw Cultuurhallen, Liberation 040, Minority Events, Muziekgebouw Eindhoven, Stichting Federatie Eindhovens Carnaval, Stichting Koningsdag Eindhoven, Park Hilaria, Wasven, Yzzo.
The agreement was compiled together with these organisers under the direction of Green Events, the knowledge platform for a sustainable and social event industry. Questions? Send an e-mail to info@gloweindhoven.nl.
Photos Bram Saeys
Newsletter. Newsletter.Newsletter. Newsletter.Newsletter. Newsletter.Newsletter. Newsletter. Newsletter. Newsletter.Newsletter. Newsletter.Newsletter. Newsletter.Newsletter. Newsletter.
Newsletter. Newsletter.
Become a partner
GLOW Eindhoven exists thanks to special collaborations and tailor-made partnerships
One-time donation
Donate a voluntary amount easily and safely. The GLOW Foundation is happy with every donation!