OWOW x GLOW, a digital partnership with global ambitions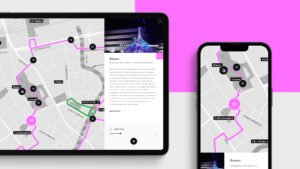 GLOW and OWOW. The two names seemed destined for each other, and now both Eindhoven-based entities have entered into a three-year partnership. GLOW aspires to be among the top 3 most influential light festivals in the world, and a digital experience naturally accompanies that ambition.
OWOW, too, aims to be among the world's top web and app development agencies. OWOW's designers and developers are committed to being the premier digital agency in the Brainport Region, consistently winning awards for their refined yet effective digital work beyond those borders.
OWOW specializes in crafting the most exquisite and innovative online web platforms, websites, web shops, and mobile apps. Based in the heart of Eindhoven, OWOW serves both national and international clients, including local clients like GLOW, who have international aspirations.
In 2022, OWOW embarked on the first step of its collaboration with GLOW: improving the user experience of the website. Visitors to GLOW noticed the difference! The clear navigation and interactive map translated directly into significantly higher user satisfaction with the GLOW website in 2022.
However, the ambitions of both GLOW and OWOW extend further.
Ralf van Lieshout (Marketing Manager, GLOW): "We see in all aspects of society that digital experiences and the real world are becoming increasingly intertwined, and digital tools can not only make our experiences easier but also more beautiful and intense. This holds true, especially in the realm of art and festivals. Therefore, it's logical that GLOW aims to lead in this area, and we believe that OWOW is the ideal partner to inspire and assist us."
Over the past year, GLOW and OWOW have taken the initial steps with interactive modules, such as the digital map and the audio tour, to discover which interactive elements GLOW visitors would like to experience. This has left us eager for more.
PieterJan Pieters (Co-CEO & Founder, OWOW): "GLOW adopts a community-centered approach; the city makes GLOW, and this sentiment resonates strongly online as well. By connecting these communities online, we not only expand the communities but also enhance the GLOW light art experience. While the city may have limits on the number of visitors, online possibilities are endless."
Curious about what the future collaboration between OWOW and GLOW will bring? Keep an eye on our newsletter and channels!
GLOW nieuws in je mailbox
Become a partner
GLOW Eindhoven exists thanks to special collaborations and tailor-made partnerships
One-time donation
Donate a voluntary amount easily and safely. The GLOW Foundation is happy with every donation!