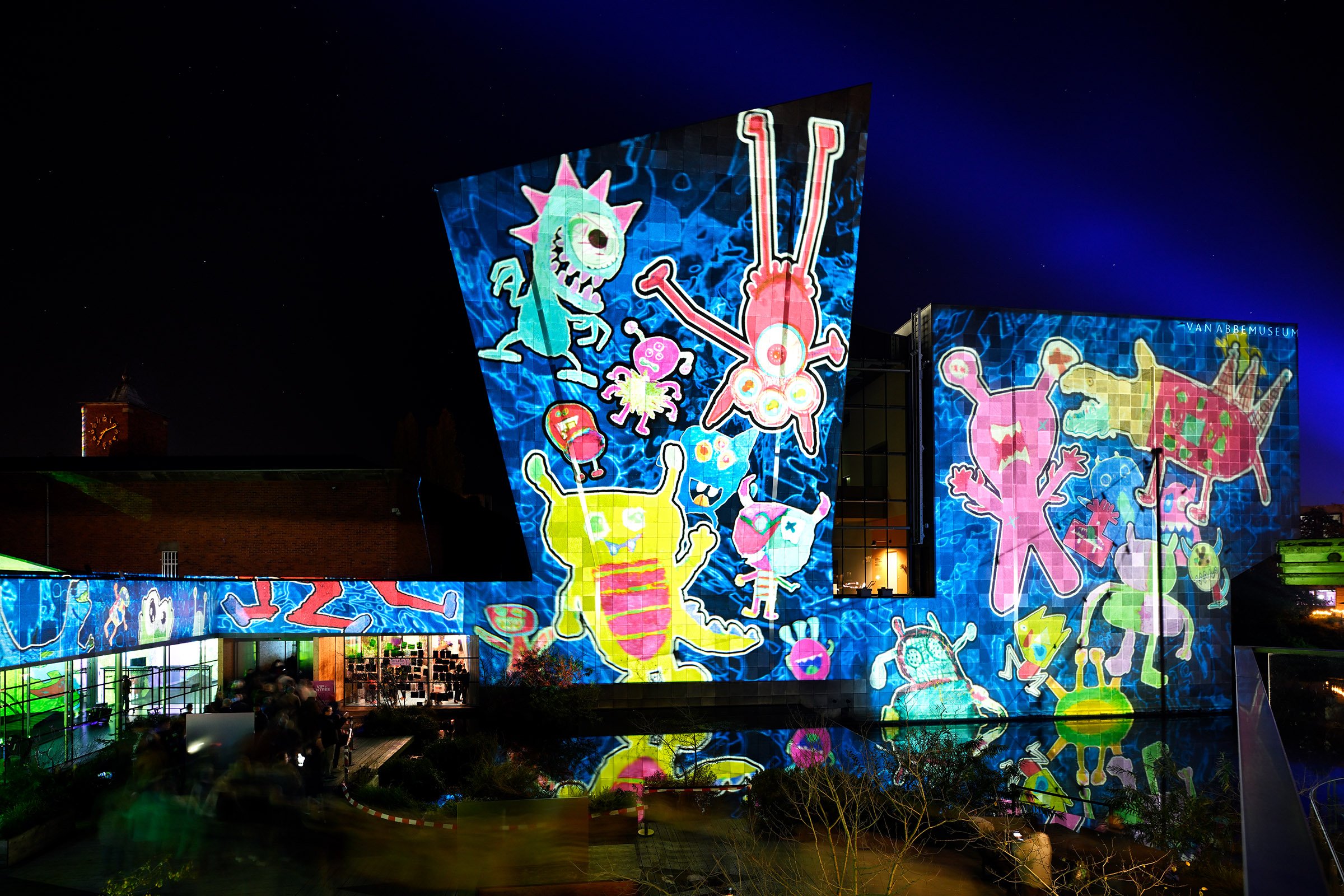 Museum Monsters
Van Abbemuseum – Bilderdijklaan 10, Eindhoven
This light artwork by Hugo Vrijdag sees primary school and first year secondary school children taking over the Van Abbemuseum with their Museum Monsters. Vrijdag's inspiration came from the lockdown, when he saw closed shops and deserted streets in many European cities. Young people were taking over the abandoned streets with their graffiti and throw-ups. The tattoos of the city.
Now the children have the unique chance to take over the Van Abbemuseum with their own creations. Every child can show their work, individual and yet together. together. A collective artwork that conquers the Van Abbemuseum, both inside and out. Layer by layer, the monsters come to life. They create the skin of the city that becomes thicker and richer. If you look carefully, you'll see them in the evening. The public are observers of layered monsters and throw-ups that appear one by one.
This project is realized in collaboration with primary schools in Eindhoven and the surrounding area, the Cultuurstation, the Van Abbemuseum, Atelier MCFW, De Ontdekfabriek and Korein.
We invite you to participate With a nephew, niece, brother or sister, with your (neighbor) children. Draw and conquer the Van Abbemuseum. See here how to participate.
Hugo VrijdagHugo VrijdagHugo VrijdagHugo Vrijdag Hugo VrijdagHugo VrijdagHugo VrijdagHugo Vrijdag
Hugo Vrijdag
Become a partner
GLOW Eindhoven exists thanks to special collaborations and tailor-made partnerships
One-time donation
Donate a voluntary amount easily and safely. The GLOW Foundation is happy with every donation!