Connected in Light: GLOW 2023 unites municipalities through light art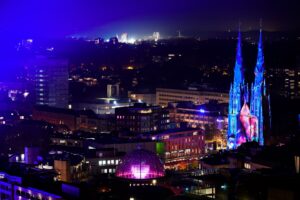 GLOW, the annual light art festival in Eindhoven, returns wider than ever before from November 11-18, 2023. During the theme 'The Beat', the region is brought together by showcasing innovative light art installations in the surrounding municipalities. It will be a unique experience and meeting point for residents and visitors of all ages and backgrounds.
GLOW is a meeting place where people can share stories and experiences. These shared "wow" moments make the festival accessible to everyone, from young to old. Light art for everyone. With the theme 'The Beat', the pulse of the region is mapped and projected onto iconic buildings in Eindhoven, Geldrop-Mierlo, Waalre, Best, and Oirschot. The various projections will come together in an impressive total projection on the Catharinakerk in Eindhoven, the birthplace of the festival.
The light festival is a connecting factor that shows and bundles the strength and identity of all municipalities into a regional project. ogether with the aforementioned municipalities, Eindhoven247 and artist collective Ocubo, they are working on groundbreaking works that provide a connection with surrounding villages. he different projects in the region and the central light artwork on the Catharinakerk bring residents together and allow them to meet each other. Shared, collective art promotes the experience of culture and recreation in the region.
GLOW supports the collaboration between the different municipalities, demonstrating and bringing together the strength of the Brainport region.
More information? Contact Suzanne Maas via suzanne@gloweindhoven.nl.
Newsletter. Newsletter.Newsletter. Newsletter.Newsletter. Newsletter.Newsletter. Newsletter. Newsletter. Newsletter.Newsletter. Newsletter.Newsletter. Newsletter.Newsletter. Newsletter.
Newsletter. Newsletter.
Become a partner
GLOW Eindhoven exists thanks to special collaborations and tailor-made partnerships
One-time donation
Donate a voluntary amount easily and safely. The GLOW Foundation is happy with every donation!