The inseparable bond between Eindhoven, light art festival GLOW, and founder Signify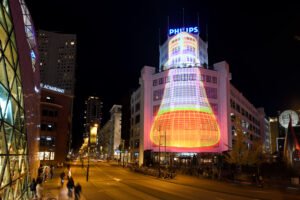 The place that brought Gerard Philips' vision to fruition and grew into an internationally intelligent city serves as the foundation for light art festival GLOW and founder Signify. While much of GLOW's light art is directly derived from the city, Signify has grown over the years and remains loyal to its origins in Eindhoven — the place where it all began. This forms an inseparable bond between the city, the technology born there, and the light art festival GLOW for Signify. This triptych represents the essence of their collaboration with GLOW, in which they perceive themselves as the founder, partner, and pioneer.
Light is life
The light that originated in Eindhoven became a source for the rest of the world. GLOW and Signify not only share the same geographical origin but also a deeply rooted history that they both embody at their core. Such a core and foundation remain an important reference point and evolve with years and societal changes. Hellen van der Plas, CEO of Signify Benelux and a member of the Supervisory Board of GLOW Eindhoven, says, "GLOW Eindhoven is a testing ground for innovating with light while sharing knowledge. The DNA of collaboration in the Brainport region of Eindhoven sets an example for the rest of the Netherlands and the world. It's an environment where innovation is the driving force, and 'reinventing oneself' is the norm. I am delighted to witness the development of GLOW in its ongoing quest for light, knowledge, technology, and wonder. Because as our founder Gerard Philips once beautifully expressed it: 'light is life, light is joy, light is festivity'." Conny Degen, brand manager of Signify Benelux, adds, "Where light in the past was purely functional, it now plays a much broader role, enriching the quality of life. It encompasses art, health, safety, and sustainability. Light can help tackle the greatest sustainability challenges, such as climate action, circular economy, and global food supply. We see GLOW as a bundle where the impact and importance of light are explained through art and culture. To inform, create social engagement, and inspire action. Light truly is life. It is therefore natural that we embarked on this journey together since the founding of GLOW."
Born out of light
GLOW was born from the merging of initiatives from both the Municipality of Eindhoven (through the city marketing organization CityDynamiek Eindhoven) and Philips Lighting, formerly known as Signify. In 2006, the city government of Eindhoven aimed to rejuvenate "the City of Light" and enhance its international reputation. Therefore, the Mayor and Aldermen decided to become members of LUCI, an international network comprising around 63 cities focused on urban lighting. This led to a desire to organize something special when the LUCI community would visit Eindhoven in 2007. Frank van der Vloed, then CEO of Philips Lighting, stated, "Together with the CityDynamiek Eindhoven Foundation, the municipal organization coordinating all activities related to design, culture, sports, light, and technology in Eindhoven, we decided to brainstorm about a unique event. Accompanied by Frank Stroeken (Holland Art Gallery) and Eric Boselie (Director of the CityDynamiek Eindhoven Foundation, now Eindhoven247), we visited Lyon and its light festival. We returned with great enthusiasm, saying, 'This is what Eindhoven needs!' Thus, GLOW Eindhoven came into existence. The initiators of the light art festival have since been regarded as 'The Founders': Signify and the Municipality of Eindhoven."
Continuous development
Ronald Ramakers, director of GLOW Eindhoven, says, "While GLOW brings joy and wonder to everyone through light art, founder Signify contributes to the development of the festival itself by supporting, for example, social responsibilities such as sustainability. As a result, GLOW has evolved into an inspiring platform that not only pushes the boundaries of light art but also takes a leading role in sustainable (event) policies." Conny adds, "Sustainability is something we consider extremely important in the evolution of our foundership, but also in all our collaborations. It forms the heart of our philosophy. Since adopting the name Signify in 2018, we have integrated sustainability into all our activities, business processes and innovations. It is no longer a separate element but the core of our strategy and a fundamental part of who we are. It is reflected in all our relationships. In addition to minimizing our ecological footprint, it also involves creating solutions that provide people with a more sustainable, healthier, safer, and more comfortable life. Through our foundership, we can effectively convey this message to a large, diverse audience as well as to industries and communities worldwide."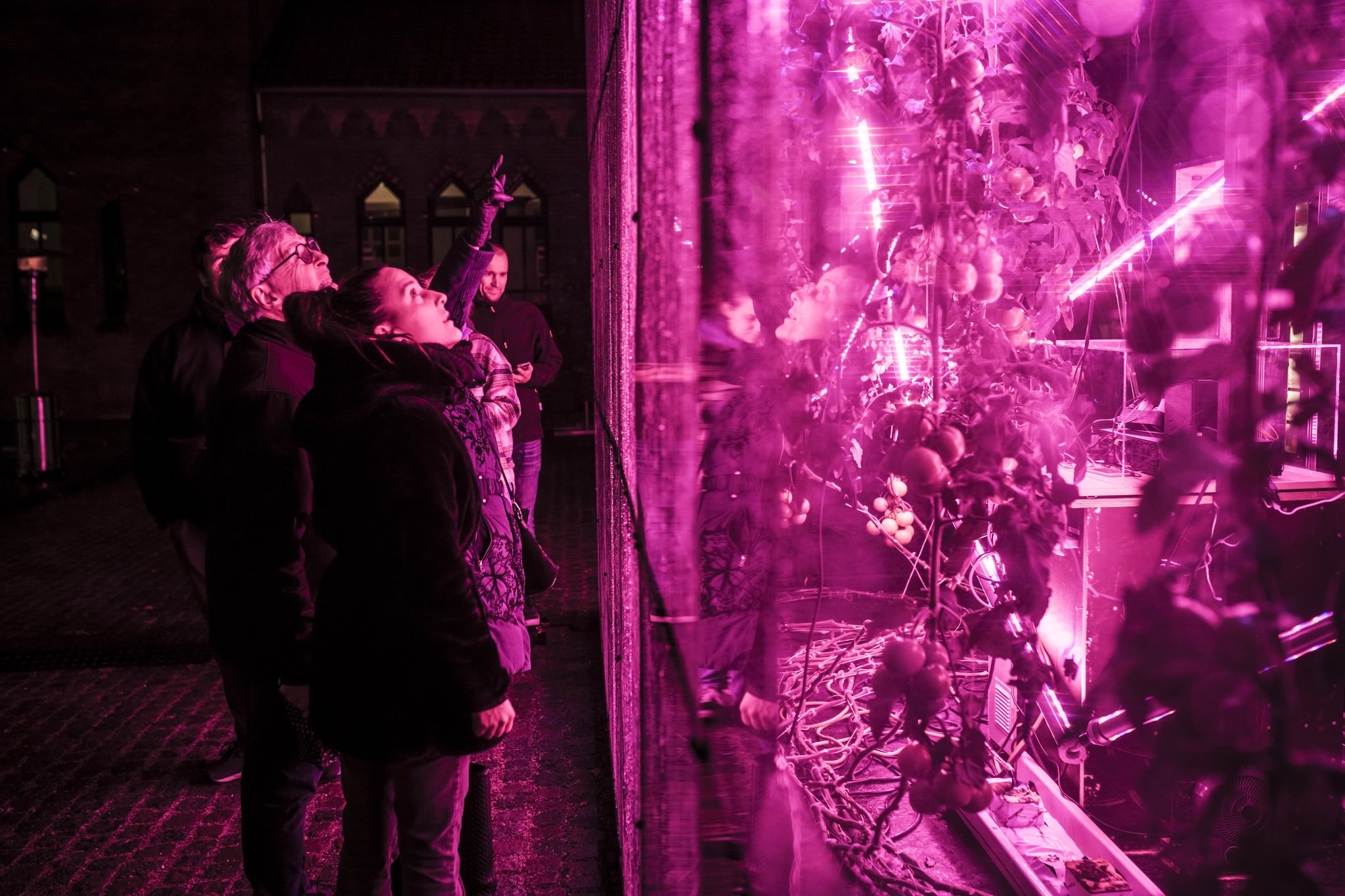 Culture 2022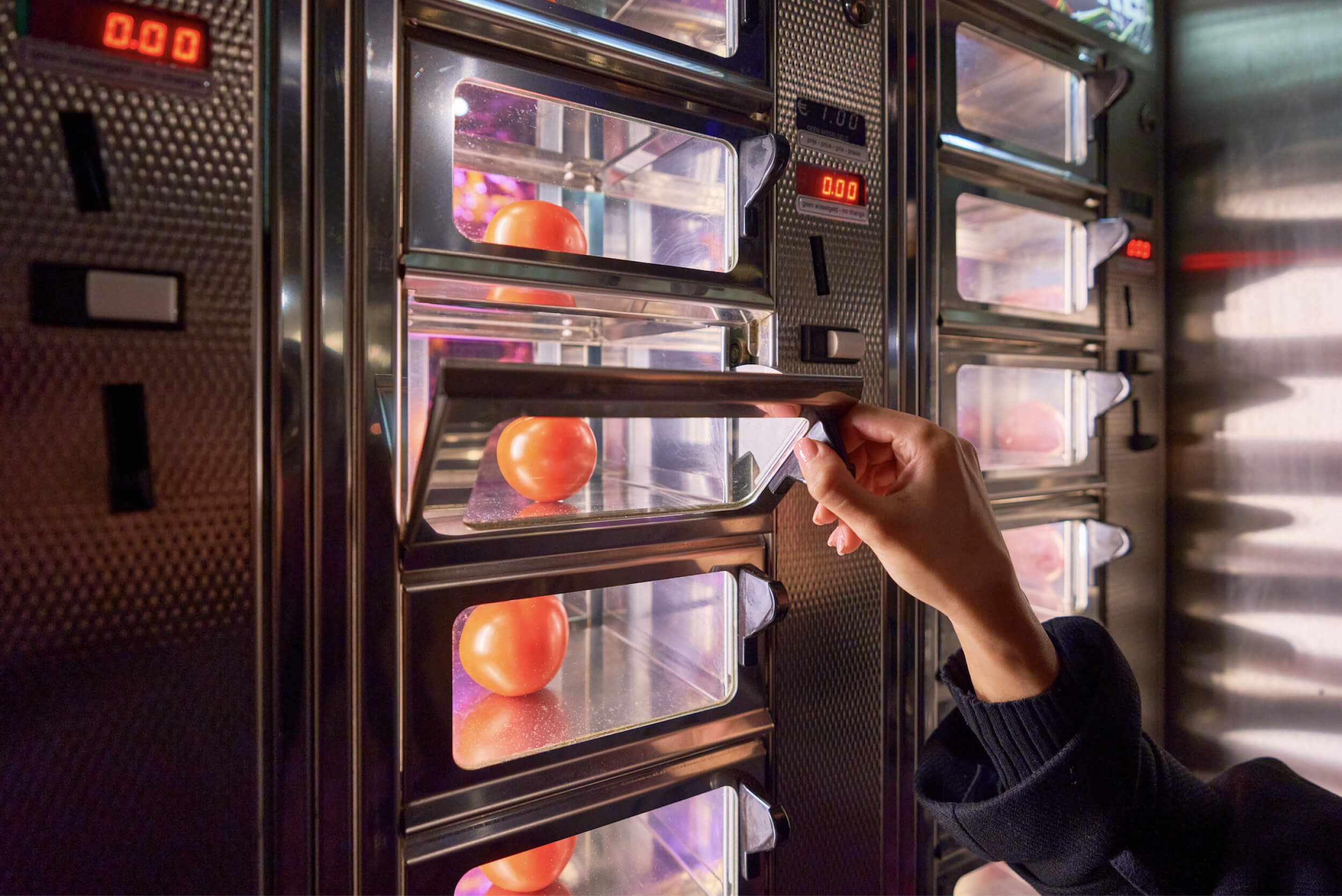 Culture 2022
Light as a messenger
A beautiful example of conveying messages was showcased during GLOW 2022 (Urban Skin) where Signify, in partnership with DOMUSDELA, illuminated the issue of food supply in the courtyard of DOMUSDELA with the light artwork 'Culture'. The light artwork demonstrated how lighting can contribute to a sustainable, continuous production of healthy food for a growing population. Artist Tom Dekyvere added a playful touch to the artwork by selling sustainably grown tomatoes for €1 through a healthy snack vending machine (see above photos).
Additionally, Signify organizes annual customer events during GLOW at a location illuminated with 'the light from Eindhoven'. It adds an extra dimension to all their collaborations, as Conny explains, "Our relationships experience the various facets of Signify by visiting a specific location where our lighting is cleverly employed, combined with a shared light artwork in the public space and a special GLOW tour. This brings collaborations together. It provides a presentation of different aspects, presenting ourselves as Signify Eindhoven, the light from Eindhoven, and GLOW Eindhoven as a triptych. The connection we establish with light art is essential for us to tell the right story. It's not just about aesthetics but also about the subject matter that always aligns with global developments."
A highlight of the foundership was the light artwork on the iconic De Witte Dame building in Eindhoven (see lower video). During GLOW 2019, the distinctive building was transformed into an impressive visual and auditory spectacle. The artwork presented a plot twist between experiencing light and darkness, prompting visitors to contemplate the importance of light and how it can be used more sparingly and intelligently. Conny emphasizes, "It's always about the stories and values behind the artworks, continually emphasizing that light is so much more than just light."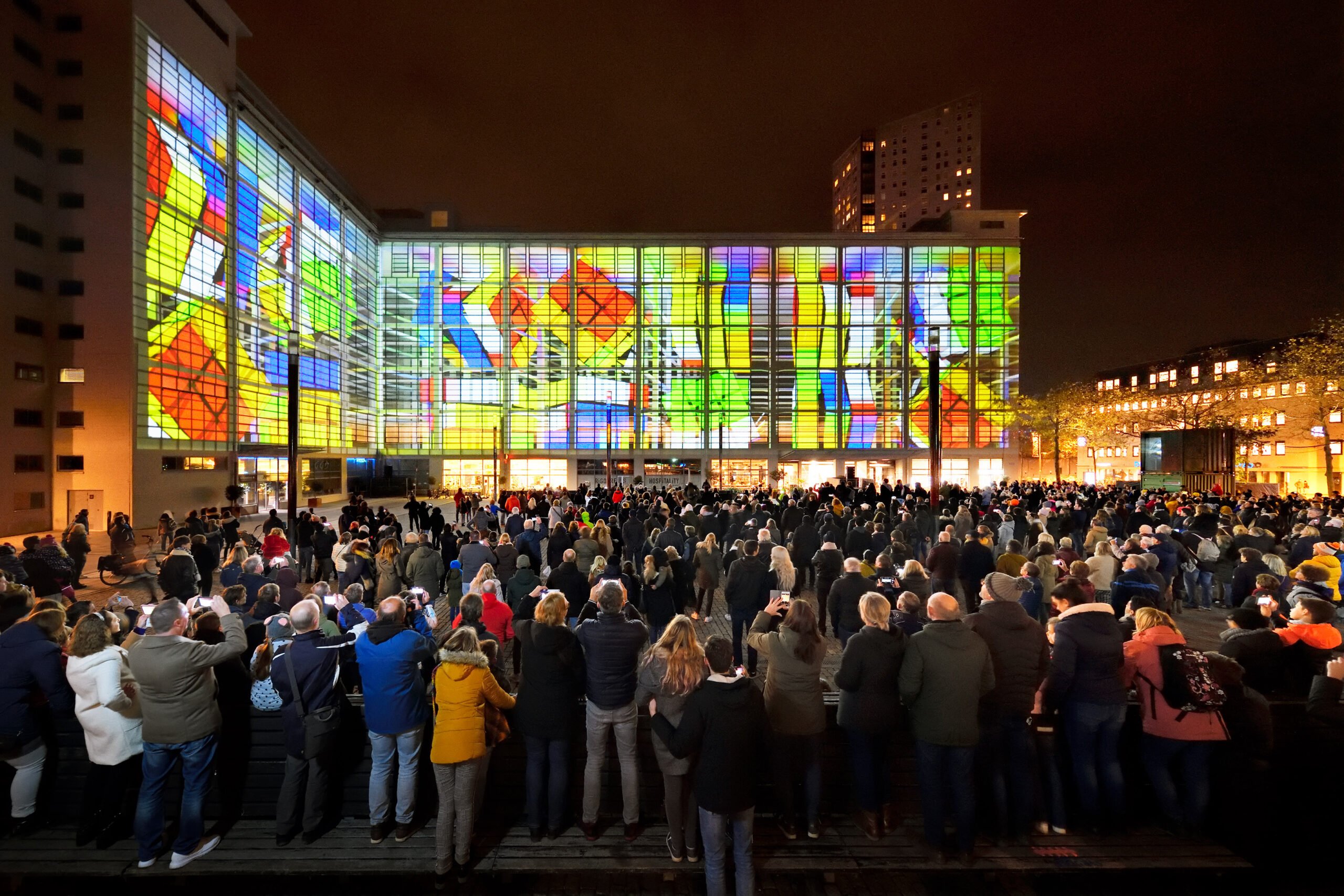 Light brings together
Ronald: In our collaboration with Signify, GLOW is continuously challenged to critically and innovatively explore the boundaries of light art and the festival itself. Signify is therefore a reliable partner and source of inspiration. The beauty is that we share a common goal: to bring light to everyone in any form. Conny adds: "That is a sustainable foundation. We continue to invest in the untapped possibilities of light, and as founders, we recognize its importance, alongside the ongoing growth of the festival. GLOW is so much more than just a light festival: it brings joy, connects people, and creates unforgettable memories through light art."
Nieuwsbrief. Nieuwsbrief.Nieuwsbrief. Nieuwsbrief.Nieuwsbrief. Nieuwsbrief.Nieuwsbrief. Nieuwsbrief. Nieuwsbrief. Nieuwsbrief.Nieuwsbrief. Nieuwsbrief.Nieuwsbrief. Nieuwsbrief.Nieuwsbrief. Nieuwsbrief.
Nieuwsbrief. Nieuwsbrief.
GLOW nieuws in je mailbox
Become a partner
GLOW Eindhoven exists thanks to special collaborations and tailor-made partnerships
One-time donation
Donate a voluntary amount easily and safely. The GLOW Foundation is happy with every donation!